Pulse Secure VPN Client
Start the Pulse Secure Client and click on the "+" next to "Connections".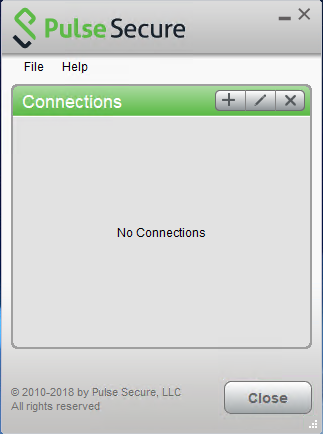 Choose as Type Policy Secure (UAC) or Connect Secure VPN).
Then type in "Uni-Wuppertal" as Name and webvpn.uni-wuppertal.de as Server URL.
Click on "Connect" to go on.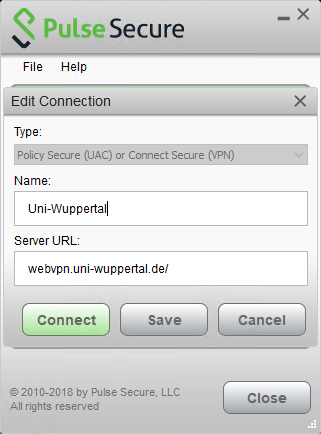 Now type in your ZIM login name.
For students, the login name is the student number without leading zeros.
For employees, guests, function accounts, ... the login name is written on the form entitled Access to the computers of the ZIM, which you received in the personnel department during recruitment or in the user consultation.
At last type in your password to your ZIM account and click on "Connect"
Geben Sie unter Benutzername Ihren ZIM-Benutzernamen ein.
Für Studierende ist der ZIM-Benutzername die Matrikelnummer ohne führende Nullen.
Für Mitarbeiter und Mitarbeiterinnen, Gäste, Funktionsaccounts, ... steht der ZIM-Benutzername auf dem Formular mit der Überschrift Zugang zu den Rechnern des ZIM, das Sie in der Personalabteilung bei der Einstellung oder in der Benutzerberatung erhalten haben.
Zuletzt tragen Sie das Kennwort zu Ihrem ZIM-Account und drücken erneut auf "Verbinden".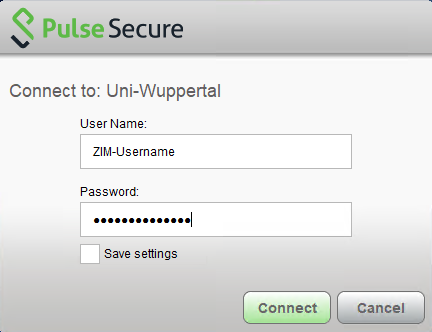 Now you're connected to the network of the BUW.