"ZIM4learners" - Screencasting as a Presentations and Study medium
The educational films of the Center for Information and Media Processing (ZIM) "ZIM4learners" are reference movies of interns working in the field of E-Learning. In addition Educasts to the provided services like Moodle, BSCW or Mahara are offered. These are recordings which are known under the word "screencasting" in the world of media technology. They serve as a descriptive instruction of new media and represent a complementary self-learning medium.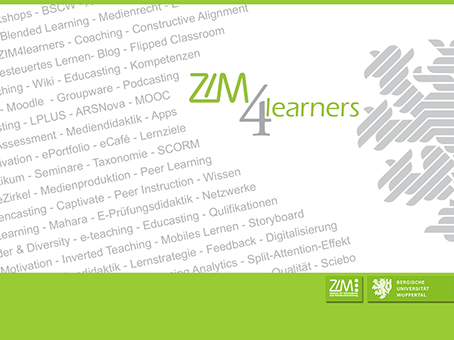 Potential "ZIM4learners" :
Illustration and introduction of new ZIM media/technologies
Presentation media in lectures/courses
Expansion of access to new types of software
Sustainable Media qualification
Online available:
Further Literature:
Zorn, I., Seehagen-Marx, H., Auwärter, A., Krüger, M. (2013): Educasting. Wie Podcasts in Bildungskontexten Anwendung finden. In: Schaffert, S. Ebner, M.: Lehrbuch für Lernen und Lehren mit Technologien (L3T), (Online lesen).