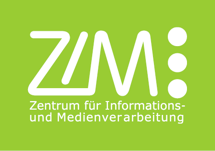 Hauptnavigation Anfang
Hauptnavigation Ende
Längere Öffnungszeiten der Benutzerberatung (ZIMber)
Ab dem 2.Mai 2009 öffnet die Benutzerberatung (ZIMber) länger ihre Türen für die Mitarbeiter/-innen und Studierenden der Bergischen Universität Wuppertal.
[more]
---
Longer opening hours of the counselling service (ZIMber)
From the 2nd of May on, the counseling service (ZIMber) will open its doors longer for all members of the Bergische Universität Wuppertal. It will now be open from 8:00 ? 18:00 o?clock.
[more]
---
Wartung Webmail
Aufgrund von Wartungsarbeiten ist das Webmail-System am 13.04.2009 voraussichtlich ab 09:00 Uhr wieder erreichbar.
[more]
---