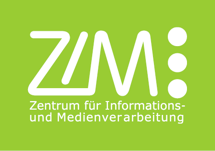 Hauptnavigation Anfang
Hauptnavigation Ende
Lernplattform Moodle Update auf 1.6.4
Die Lernplattform Moodle läuft seit vorgestern nun in der Version 1.6.4. Das Update auf die neue Version bringt einige Neuerungen mit sich. So ist zum Beispiel der Anmeldezeitraum für Kurse/Seminare optional mit einem...
[more]
---
Neuer Web-Auftritt des ZIM
Web-Auftritt des ZIM freigegeben Endlich ist es soweit: Wir haben einen neuen Web-Autritt! Über ein Jahr nach der Fusion von AVMZ und HRZ zum ZIM wurde jetzt der neue Web-Auftritt vorläufig freigegeben. Zwar begannen die...
[more]
---
New Web presentation of ZIM
Web presentation of ZIM releasedAt last it happened: We have a new Web presentation! More than one year after the fusion of AVMZ and HRZ to ZIM, the new Web presentation has been temporarily released. The preliminaries...
[more]
---