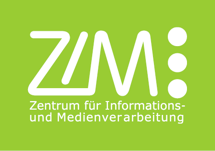 Hauptnavigation Anfang
Hauptnavigation Ende
UNIX/C-Kurs fällt aus
Die Blockveranstaltung (Einführung in die Benutzung des Betriebssystems UNIX und Einführung in die Programmiersprache C) vom 5.9. bis 30.9.2005 muss leider abgesagt werden.
[more]
---
Merging of AVMZ and HRZ to ZIM
Zentrum für Information-und Medienverarbeitung The Audio-Visual Mediacenter (AVMZ) as well as the University's Computing Department (HRZ) will merge and being known as the Center for Information-and Mediaprocessing (in...
[more]
---
Fusion von AVMZ und HRZ zum ZIM
Zentrum für Informations- und Medienverarbeitung (ZIM) Das Audio-Visuelle Medienzentrum (AVMZ) und das Hochschulrechenzentrum (HRZ) der Bergischen Universität werden mit Wirkung ab 1. September zum Zentrum für Informations-...
[more]
---