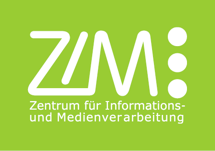 Hauptnavigation Anfang
Hauptnavigation Ende
LaTeX-Workshops in January 2005
LaTeX workshop starts January 12th 2005 The workshop "Scientific Word Processing with LaTeX" takes place on January the 12th 2005, 2:15-4:00 p.m., in lecture room 23. The course consists of 4 workshops and will be continued...
[more]
---
LaTeX-Kurs im Januar 2005
LaTeX-Kurs ab 12.01.2005 Ab Mittwoch, den 12.1.2005 findet im Hösaal 23, 14:15-16:00 Uhr, der Kurs "Wissenschaftliche Textverarbeitung mit LaTeX" statt. Termine für die Fortsetzung des Kurses sind der 19.1.2005, 26.1.2005...
[more]
---
Umzug HRZ P.06 nach P.09
Aufgrund des fertiggestellen Umbaus der Etage P.09 zieht die HRZ-Leitung und die Abteilung Anwendungs-Software am 13.12.04 wieder zurück in die Etage P.09. Sie finden die Mitarbeiter des HRZ dann in folgenden Räumen: ...
[more]
---