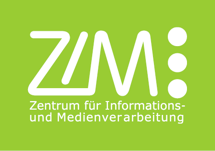 Hauptnavigation Anfang
Hauptnavigation Ende
User 5k
We are glad to welcome user number 5000 of our Internet-Cafxe9. This service was established in 1997. Back then (Internet-Cafxe9 1) the only application of this service was "Netscape", used as a mail client and of course...
[more]
---
5000 Nutzer im Internet-Cafe
Am heutigen Tag begrüßen wir den 5000. Nutzer des Internet-Cafe. Dieser Dienst wurde 1997 aus der Taufe gehoben. Damals (Internet-Cafe 1) existierte als einzige Applikation auf den Rechnern der Web-Browser...
[more]
---
SunDay - Technologie-Tag von Sun und HRZ
SunDay Das HRZ und die Computer-Firma Sun Microsystems laden ein zum SunDay - Technologie-Tag von Sun Microsystems zusammen mit dem HRZ der Uni Wuppertal Zeit: Mittwoch, 10.11.2004, ab 12:30 Uhr Ort: Gästehaus...
[more]
---