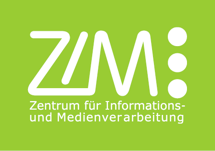 Hauptnavigation Anfang
Hauptnavigation Ende
Preiserhöhung bei Adobe
Preiserhöhung bei Adobe Adobe Campuslizenzen erfahren nach dem 14. Juli eine deutliche Erhöhung des Preises! Wer also den Erwerb einer Adobe-Lizenz in Erwägung zieht, sollte sich beeilen.
[more]
---
Automatical Spam filter
The automatical Spam filter of HRZ HRZ offers to its users a new service: automatical Spam filtering. The filter does not only classify the incoming mail as before, but performs some actions according to the wishes of the...
[more]
---
Automatischer Spam-Filter
Der automatische Spam-Filter des HRZ Das HRZ stellt ab sofort seinen Benutzern und Benutzerinnen einen automatischen Spam-Filter zur Verfügung. Der Filter klassifiziert nicht nur wie bisher die Mail, sondern führt auf...
[more]
---