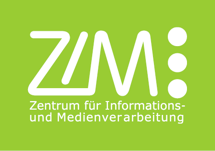 Hauptnavigation Anfang
Hauptnavigation Ende
C-Programmierkurs 2003
Einführung in die Programmiersprache C Termin: 01.09.-26.09.2003 C ist die universelle Programmiersprache, in der heutzutage die meiste Software entwickelt wird. Sie erlaubt die Erstellung kurzer, effizienter...
[more]
---
HRZ-Info 19
Neu: HRZ-Info 19 Das neue HRZ-Info Nr. 19 vom 14. Juli 2003 ist erschienen! Die gedruckte Version müsste unsere Abonnenten inzwischen erreicht haben. Wie üblich liegen weitere gedruckte Exemplare in der Benutzerberatung...
[more]
---
HRZ-Info 19
New: HRZ-Info 19 The new HRZ-Info No. 19 of July, 14th 2003 is out! The print version has already be sent to our recipients. As usual there are more copies available in the...
[more]
---